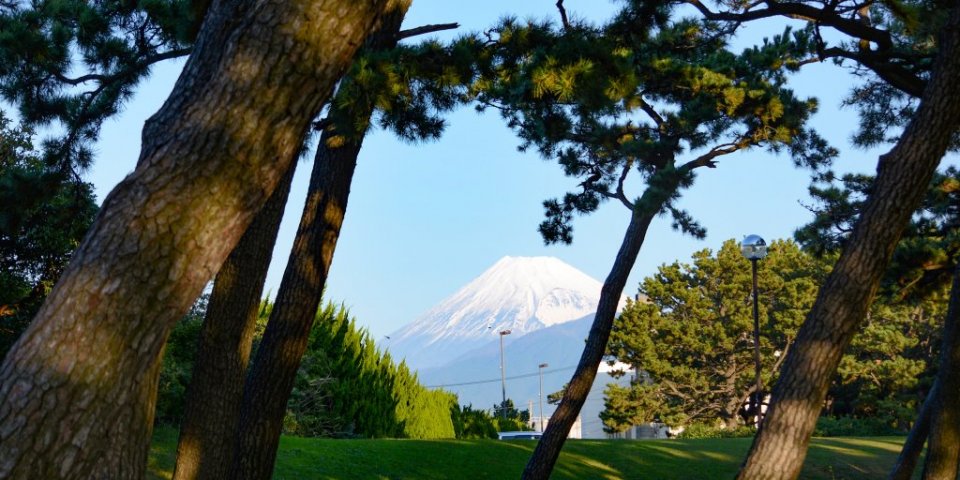 A stroll along Senbonhama Beach, with its spectacular views of Mt. Fuji, followed by delicious seafood at Numazu Port. Afterwards, admire the sheer scale of Fuji from a sightseeing cruise. This half-day itinerary is packed with different views of Mt. Fuji and delectable local food.
Senbon Matsubara is a beautiful forest made up of tens of thousands of pine trees, stretching around 10 km along the sea from the Kano River estuary to Tagonoura. Views of the evergreen pines, set against a snow-capped Mt. Fuji and dyed red by the sun setting over Suruga Bay are why Senbon Matsubara has been recognized as one of Japan's top 100 beachside pine forests.

It is also steeped in history, having been the site of a battle between the Takeda Clan and the Later Hojo Clan in the late 1500s. Senbon Matsubara was razed in the fighting, but was later painstakingly rehabilitated over five years by Zoyo Shonin, a famed Buddhist monk. Senbon Matsubara has also been celebrated by several eminent cultural figures, and plaques have been dedicated to them in part of the forest that has been turned into a park.
12 minutes by car
Named after its address, Minato 83 Banchi is a collection of down-to-earth restaurants and attractions, frequented by locals and tourists alike. With Suruga Bay, Japan's deepest bay, right there, visitors can enjoy the freshest sushi, barbecued seafood, seafood rice bowls, and even deep-sea fish burgers at reasonable prices.

Besides food, Minato 83 Banchi also offers deep-sea-themed attractions. The Numazu Deep Sea Aquarium is the world's first museum centered on deep sea species and is best known for taxidermy and frozen specimens of coelacanth, a so-called "living fossil." For something more action-packed, try The Deep Sea World, an amusement ride where visitors fend off deep sea assailants in a pod armed with virtual lasers.

9-minute walk
Built in 2004, View-O is both a popular Numazu sightseeing spot and a gigantic gate designed to protect the city from tsunamis. At 40 m wide and 9.3 m tall and weighing 406 tons, it is one of the largest water gates in Japan and is designed to automatically shut within five minutes of a large earthquake occurring.

Above the gate, 30 m off the ground, is an observatory that offers a 360-degree view of the surrounding landscape, including Mt. Fuji, the Hakone mountains, the Numazu Alps, Suruga Bay and Osezaki Cape. View-O is also lit up beautifully at night and makes for a popular dating spot where couples can take in the breathtaking nightscape together after a fresh seafood dinner in nearby Numazu Port.
1-minute walk
Located next to Suruga Bay, at the foot of Mt. Ashitaka and the start of the Izu Peninsula, Numazu is surrounded by beautiful natural scenery. Take it all in from cruises that go out into the bay from the ports at Numazu or Mito.

The 30-minute Numazu Port cruise offers great views of Mt. Ashitaka, Mt. Fuji, Numazu Imperial Villa Memorial Park, Senbon Matsubara and View-O, one of the largest water gates in Japan. From Mito Port, there are two options: the 55-minute lunch cruise or the regular 25-minute sightseeing cruise. You can admire Mt. Fuji on both, but the lunch cruise lets you enjoy a delicious barbecued seafood while you do so.